Barry Dalal-Clayton first saw Kilimanjaro from the ground in 1973 when camping in Amboseli National Part in Kenya. Since the, over the past 35 years, he has seen it many times, from all sides and from above, and always been mesmersied by the beauty of the world's largest free-standing mountain. Ever since that first morning sight of Kilimanjaro glistening white in the morning blue, standing sentinal over the plains, he has wanted to climb it. But whenever he was near the mountain, he was on work trips or without the right equipment or the time for a climb. So it remained an unfulfilled dream. It was during the summer of 2008 that a firm decision to do the climb was taken as a way of celebrating his 60th year.
Though the second half of 2008, we spent a lot of time doing baseline research - finding out about the challenges and dangers, considering which route would be best, reading accounts by others on the internet, investigating what gear would be needed and when best to go, etc.
We also agreed that we would first do a preparatory climb on the nearby Mt Meru, close to Arusha The eastern half of the mountain blew away a long time ago in a massive explosion, leaving a crater half way up. What remains on the western side is the world's highest cliff face. Meru is not as high as Kilimanjaro (14,976 ft) but is a more technical climb and far more exposed with severe vertical drops to either side of the ridge ascending to the summit.
(Start date for Mt Meru climb: Monday: 15th February 2010)
(Start date for Kilimanjaro climb: Friday19th February 2010)
MT MERU CLIMB
Night at Impala Hotel, Arusha (Sunday 14th February 2009)
Mr Meru

(4 days/3 nights on mountain)
(Start 15th February 2010)

Day 1: Arusha – Momella Gate Gate (5170 ft, 1570m) to
Miriakamba hut (just above crater) (8245 ft, 2514m)

(4-6 hrs walking) (altitude gain: 3096 ft; 944m in 10km)

Day 2: Miriakamba hut to Saddle hut (11710 ft; 3570m)
[climb Little Meru summit –

3794m)] (3-5 hrs walking) (altitude gain 3465ft; 1056m;
in 4km)

Day 3: Saddlle hut (depart 2am) to Rhino Point (12700 ft,
3800m) to Cobra Point (4350m) to summit 14976 ft, ,
4565m) (5 hrs)

(altitude gain: 3267ft; 996m in 5km)
[Would prefer to start climb at 5.00am and see sunrise at Rhino Point, reach summit at 10.00 am]



Return to Saddle Hut (2-3 hrs) or on to Miriakamba Hut
(further 2 hrs)

Day 4: Saddle Hut – Momella Gate (5 hrs walking) – but we will
probably opt to be picked up by vehicle at the top of the
trail at the cater lip below Miriakamba hut (about
2000m) at no extra cost) – saving on wear and tear on
the legs and give some time to recover and prepare for
starting Kilimanjaro the next day


Night in Arusha – Impala Hotel (18th February 2010)

KILIMANJARO CLIMB

(via Western Breach) (9 days/ 8 nights on mountain - including crater night)
(Start 19th February 2010)

Day 5: Arusha to start of Lemosho route – (start 7950 ft,
2424m ) to Forest Camp (Mti Mkubwa) (9252 ft,
2821m) x 5.5km (altitude gain: 1302ft; 397m)

Day 6: Forest Camp (Mti Mkubwa) to Shira 1 camp (11493 ft,
3504m) x7.7km (altitude gain 2241ft; 683m)
Optional pm acclimatisation ascent to Shira Peak
(12985ft; 3959m) (x7.6km)



Day 7: Shira 1 camp to Moir Hut (13628ft, 4155m (via Shira Cathedral) x9.4 km to Moir (6 hrs)? (altitude gain to Moir Hut: 2135ft, 658m)



Day 8 Moir Hut to Shira Cave (12710 ft, 3875m) via Lent
Group for acclimatisation

Day 9 Shira Cave to Lava Tower (15226 ft, 4642m) (pm climb
Lava Tower) (altitude gain: 2516 ft, 767m)



Day 10 Lava Tower to Arrow Glacier camp (15,978 ft)
(4870m) (3 hrs) (altitude gain: 752 ft, 228m)
Acclimatisation excursions to higher altitude

Day 11: Arrow Glacier Camp (via Western breach) to crater
camp (18791 ft, 5729m (6 hrs)
(altitude gain: 2813 ft, 859m)

Climb to Uhuru Point summit (2 hrs) (19340 ft;
5895m) (altitude gain: 549ft, 166n



Total daily altitude gain: 2263 ft, 1025m)

Return to Crater Camp



Day 12: Circumnavigate crater and Reusch Ash Pit and
descend from Stella Point:
Stella point (18860 ft, 5749m) to Barafu camp (15353
ft, 4681m) (2 hrs)

Barafu camp to Mweka Camp (10135 ft, 3090m) (2
hrs)

Day 13: Mweka Camp to Park Gate (5382 ft, 1641m)



Night in Arusha – Impala Hotel (27th February 2010)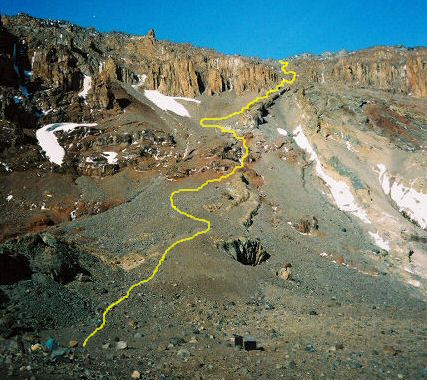 he Western Breach ascent route